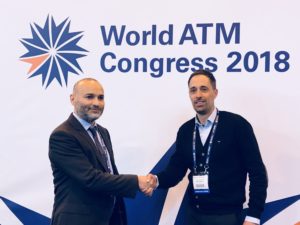 Photo:  Kamel Rebaï, CEO of MetSafe & Arnaud Setien, CEO of Skyconseil
In a demanding market where competition is constantly growing, cost optimization has become a crucial stake for most airlines. To achieve it while reducing their CO2 emissions and increasing safety, airlines, now more than ever, request efficient optimization solutions all along their flight cycle. However, the tools used today (as the FMS), developed in the 80ies, are not anymore able to cope with the latest demands in terms of available functionalities, flexibility, precision or just ergonomics.
GUIDOR, as an advanced in-flight trajectory optimization application, developed by the Toulouse based SME Skyconseil, responds perfectly to these demands.
It is taking advantage of the latest available technology to help pilots optimizing, live in the cockpit:
Altitude/speed depending on changing weather, delays and air traffic
The lateral route depending on turbulence and restricted areas
Their decisions with regards to the current overall situation
Through its webservices plateform, MetSafe provides the back office feeding GUIDOR with real time global meteorological products. 
Beyond ICAO regulated products (TAF, METAR, SIGMET), MetSafe API delivers state of the art meteorological products such as:
Real time adverse weather (Convection as observed by satellite, Lightning detection, Icing, Clear Air Turbulence, etc)
Parameters extracted from Numerical Weather Model such as winds, tropopause, temperature.
Specific services have been specifically designed for airborne applications to provide the minimum payload so as to alleviate communication costs.
More info about Guidor Skyconseil
Photo credit: Shakers Makers